GUEST HEADS:
IAN DIXON - Trumpet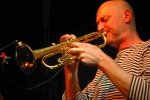 Best known for his work as a trumpet player and composer on the global electronica scene, Ian Dixon has performed and recorded in musical settings as diverse as jazz, electronica and contemporary classical, with performers including Ute, Kumo, Ape, Guru, Kenny Garrett, Musiikki-Oy, Blow, Night Z, Ramjac, DJ Blame, Dub Pistols and Irmin Schmidt (Can), and most recently, solo with trumpet and laptop as "TPT". A fascination with the world of sound and enthusiasm for cross-discipline collaborations has led to work in film and television, with visual artists, choreographers and in digital media.

RICK EDWARDS - Percussion

Rick Edwards has played percussion for many years, performing and recording with the likes of Hossam Ramsay, Porcupine Tree, The Guitar Orchestra and No-Man, amongst others. His sensitive and intricate playing perfectly complements the new Ex-Wise Heads material and brings a wide pallette sounds to the mix, including congas, berimbow, bongos, shakers, talking drums, darabukas, gourds and cymbals.

RAJAN SPOLIA - Guitar

Rajan's guitar playing effortlessly incorporates elements of Indian classical music and has drawn praise from such luminaries as Martin Taylor, Gordon Giltrap, Eric Roche, and Indo-jazz pioneer John Mayer. He has released his own series of albums and performed nationally and internationally in various world class guitar line ups including the Kirkmichael Guitar festival, Bath Guitar Festival, Royal Festival Hall in London, and WOMAD. On an instrument as widely played as the guitar, Rajan brings a unique and original "voice" to the Ex-Wise Heads material.